Os sistemas de água ultrapura Aquinity² E35/E70 contém uma célula de letrodeionização (EDI)para produzir água Tipo II com uma taxa de produção de 10l/h.
Os sistemas estão equipados com reservatórios de armazenamento de 35 l ou 70 l. A água pode ser dispensada diretamente do reservatório. Nos modelos Aquinity² E35 / E70, a água do reservatório tem uma qualidade muito alta <0,1 μS / cm e, portanto, pode ser usada para aplicações menos sensíveis.
Além disso, esta alta qualidade da água impede que o cartucho do polidor seja esgotado rapidamente. Assim, para todos os laboratórios que utilizam mais de 100l / dia, o Aquinity² E35 / E70 também é uma decisão sábia, econômica e ecológica (menos desperdício).
Todos os modelos Aquinity estão disponíveis em diferentes versões (Reagent, Analytical e Life Science).
Taxa de permeabilidade: 10 l/h
Resistividade: 18.2 MOhm x cm
Reservatório: 35 l or 70 l
Taxa de fluxo: Água Ultrapura: 2 l/min
TOC
< 10 ppb (Reagente)
< 3 ppb (Analítico com UVV)
< 5 ppb (LifeScience com UV e UF)
Endotoxinas: < 0.001 EU/ml endotoxinas (LifeScience)
Vantagens dos novos sistemas
• Compacto
• Tela grande Touchscreen
• Módulo de serviço remoto
• Menus e assistentes fáceis de usar evitando erros
• Novo dispensador fixo e flexível
• Cartuchos fáceis de serem trocados
Upgrade for Trace Analysis
To detect traces of substances in analytics, the water quality has to be of highest purity. Therefore all components are made of unfi lled material. Tubing material is PTFE for minimal adhesion. Dead spaces are avoided and the recirculation pump is made of PEEK and stainless steel. The material of the tap valve is PVDF.
Monitoramento de TOC
(only for Astacus² & Aquinity² P/E 35/70)
O monitoramento de TOC durante a produção e medições intermitentes durante os períodos de não utilização permite verificar continuamente as substâncias orgânicas na água. O valor TOC é medido entre 1 e 30 ppb e pode ser mostrado no visor para monitorar impurezas orgânicas.
memTap
Our new automatic memTap allows the volumetric controlled tapping of water with a dispenser arm. The arm can be moved horizontally and vertically. Preset of tap-volume is in 0.1 l steps. This system prevents overfl ow of containers and allows to tap water without supervising. The 3,5" display with touch screen offers you all relevant data at a glance.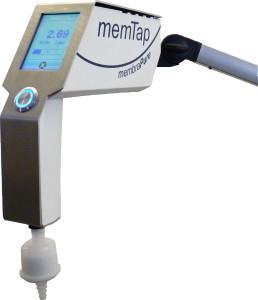 Module
Reagent
Analytical
LifeScience
Analytical TI
LifeScience TI
Article number
114-0063
114-0064
114-0065
114-0068
114-0069
Water Quality
Application:
AAS
yes
yes
yes
yes
yes
ICP
yes
yes
yes
yes
yes
Low Level Applications
yes
yes
yes
yes
yes
HPLC
no
yes
yes
yes
yes
CE
no
yes
yes
yes
yes
ICP-MS
no
yes
yes
yes
yes
Cell Culture
no
no
yes
no
yes
Gentics
no
no
yes
no
yes
Modules:
UV-Reactor
no
yes
yes
yes
yes
Ultrafiltration (UF)
no
no
yes
no
yes
TOC-Display
no
no
no
yes
yes
Ultra pure water cartridge
190-0088
190-0088
190-0087
190-0088
190-0087
Filter Sterile
190-0013
190-0013
190-0013
190-0013
190-0013
Installation-Kit
N/A
N/A
N/A
N/A
N/A
Options:
Microsiemens feed water check
N/A
N/A
N/A
N/A
N/A
memTAP Dispenser
180-0074
180-0074
180-0074
180-0074
180-0074
Feed water requirements
Water quality
tap water less than 1400μS/cm
tap water less than 1400μS/cm
tap water less than 1400μS/cm
tap water less than 1400μS/cm
tap water less than 1400μS/cm
Temperature
<20°C
<20°C
<20°C
<20°C
<20°C
Ultra pure Water (Type I)
Resistivity At 25°C
18,2 MΩ
18,2 MΩ
18,2 MΩ
18,2 MΩ
18,2 MΩ
Conductivity At 25°C
0,055μS
0,055μS
0,055μS
0,055μS
0,055μS
Flow Rate
2 l/min
2 l/min
2 l/min
2 l/min
2 l/min
TOC Level
< 10 ppb
< 3 ppb
< 5 ppb
< 3 ppb
< 5 ppb
Endotoxin (Pyrogens)
N/A
N/A
0,001 EU/ml
N/A
0,001 EU/ml
Particulate
< 1/ml (>0.22μm)
< 1/ml (>0.22μm)
< 1/ml (>0.22μm)
< 1/ml (>0.22μm)
< 1/ml (>0.22μm)
Bacteria
≤ 1 cfu/10ml
≤ 1 cfu/10ml
≤ 1 cfu/10ml
≤ 1 cfu/10ml
≤ 1 cfu/10ml
DNAse/RNAse
N/A
N/A
< 1 pg/ml/< 5 pg/ml
N/A
< 1 pg/ml/< 5 pg/ml
High purified Water from RO or EDI
Conductivity At 25°C
<0.5°S
<0.5°S
<0.5°S
<0.5°S
<0.5°S
TOC
< 20 ppb
< 20 ppb
< 20 ppb
< 20 ppb
< 20 ppb
Production Rate
10l/h
10l/h
10l/h
10l/h
10l/h
Ionic Rejection
98%
98%
98%
98%
98%
Electrical Requirements
Electrical Voltage
100-230 V
100-230 V
100-230 V
100-230 V
100-230 V
Packing Information
Net Weight:
25kg with empty tank
25kg with empty tank
25kg with empty tank
25kg with empty tank
25kg with empty tank
Water tank
70l
70l
70l
70l
70l
External Dimensions (WxDxH in mm)
Main units
504 x 680 x 535
504 x 680 x 535
504 x 680 x 535
504 x 680 x 535
504 x 680 x 535