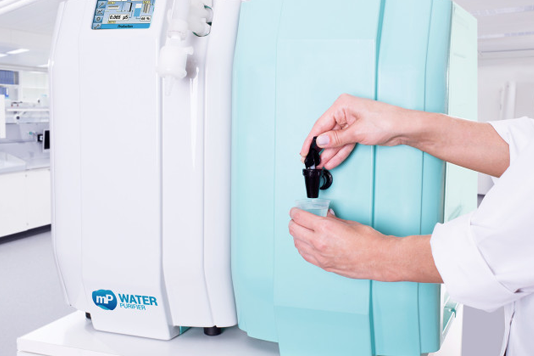 The new pure water systems AquaRo² and EDI² provide you with reliable and compact systems which produce up to ASTM Type II grade water. Both systems ensure high comfort at low operating costs.
Both systems are equipped with a pretreatment of activated carbon and softening components. AquaRo² systems are equipped with a reverse osmosis (RO) and EDI² with an additional electro deionization (EDI) cell to produce de-ionized water of Type II. The systems are equipped with 10 l, 35 l, 70 l or an individual sized storage reservoir which are filled with a production rate of 5-40 l/h. The de-ionized water can be dispensed with a fixed and flexible dispenser. As an additional option the new AquaRo² and EDI² models enable remote diagnosis and service via Internet. This Remote Check offers you the opportunity to save time and money by fast and reliable support through the service team.
This product guide shows the range of our labwater systems and will help to select the best system for your needs.
typical specifications
Advantages of the new systems
• Compact housing
• Big touchscreen
• Remote service module
• Menus and wizards easy to use and mistake avoiding
• New fixed and flexible dispenser
• Easy access for cartridge exchange
TOC-Monitoring
(only for EDI²)
The TOC monitoring during production and intermittent measurements during non-use periods allows to check the organics in water continuously. The TOC value is measured between 1 and 999 ppb and can be shown in the display to monitor organic impurities.
UV-Lamp
For sensitive applications the systems can be equipped with an UV lamp.
memTap
Our new automatic memTap allows the volumetric controlled tapping of water with a dispenser arm. The arm can be moved horizontally and vertically. Preset of tap-volume is in 0.1 l steps. This system prevents overfl ow of containers and allows to tap water without supervising. The 3.5" display with touch screen offers you all relevant data at a glance.
Module
AquaRO² 10
AquaRO² 20
AquaRO² 40
AquaRO² 55
AquaRO² 10 DI
AquaRO² 20 DI
AquaRO² 8 P10
AquaRO² 8 P10 DI
EDI² 10
EDI² 20
EDI² 40
EDI² 55
Article number
200-0014
200-0018
200-0019
200-0020
200-0023
200-0024
200-0016
200-0017
250-0056
250-0057
250-0055
250-0058
Water Quality
Modules:
UV-Reactor
no
no
no
no
no
no
no
no
no
no
no
no
Ultrafiltration (UF)
no
no
no
no
no
no
no
no
no
no
no
no
TOC-Display
no
no
no
no
no
no
no
no
no
no
no
no
Options:
Mikrosiemens feed water check
n/a
n/a
n/a
n/a
n/a
n/a
n/a
n/a
n/a
n/a
n/a
n/a
memTAP Dispenser
180-0075
180-0075
180-0075
180-0075
180-0075
180-0075
180-0075
180-0075
180-0075
180-0075
180-0075
180-0075
Feed water requirements
Water quality
tap water
tap water
tap water
tap water
tap water
tap water
tap water
tap water
tap water
tap water
tap water
tap water
Temperature
<20°C
<20°C
<20°C
<20°C
<20°C
<20°C
<20°C
<20°C
<20°C
<20°C
<20°C
<20°C
Ultra pure Water (Type I)
Resistivity At 25°C
n/a
n/a
n/a
n/a
n/a
n/a
n/a
n/a
n/a
n/a
n/a
n/a
Conductivity At 25°C
n/a
n/a
n/a
n/a
n/a
n/a
n/a
n/a
n/a
n/a
n/a
n/a
Flow Rate
n/a
n/a
n/a
n/a
n/a
n/a
n/a
n/a
n/a
n/a
n/a
n/a
TOC Level
n/a
n/a
n/a
n/a
n/a
n/a
n/a
n/a
n/a
n/a
n/a
n/a
Endotoxin (Pyrogens)
n/a
n/a
n/a
n/a
n/a
n/a
n/a
n/a
n/a
n/a
n/a
n/a
Particulate
n/a
n/a
n/a
n/a
n/a
n/a
n/a
n/a
n/a
n/a
n/a
n/a
Bacteria
n/a
n/a
n/a
n/a
n/a
n/a
n/a
n/a
n/a
n/a
n/a
n/a
DNAse/RNAse
n/a
n/a
n/a
n/a
n/a
n/a
n/a
n/a
n/a
n/a
n/a
n/a
High purified Water from RO or EDI
Conductivity At 25°C
approx 10μS
approx 10μS
approx 10μS
approx 10μS
<1μS
<1μS
approx 10μS
<1μS
<0.5μS
<0.5μS
<0.5μS
<0.5μS
TOC
< 50 ppb
< 50 ppb
< 50 ppb
< 50 ppb
< 30 ppb
< 30 ppb
< 50 ppb
< 30 ppb
< 20 ppb
< 20 ppb
< 20 ppb
< 20 ppb
Productivity Rate
10l/h
20l/h
40l/h
55l/h
10l/h
20l/h
8l/h
8l/h
10l/h
20l/h
40l/h
55l/h
Ionic Rejection
98%
98%
98%
98%
98%
98%
98%
98%
98%
98%
98%
98%
Electrical Requirements
Electrical Voltage
100-230 V
100-230 V
100-230 V
100-230 V
100-230 V
100-230 V
100-230 V
100-230 V
100-230 V
100-230 V
100-230 V
100-230 V
Packing Information
Net Weight:
Water tank
10 to 70
10 to 70
10 to 70
10 to 70
10 to 70
10 to 70
10l
10l
10 to 70
10 to 70
10 to 70
10 to 70
External Dimensions (WxDxH in mm)
Main units
297 x 340 x 535
297 x 340 x 535
504 x 340 x 535
504 x 340 x 535
297 x 340 x 535
297 x 340 x 535
504 x 340 x 535
504 x 340 x 535
297 x 340 x 535
297 x 340 x 535
504 x 340 x 535
504 x 340 x 535